Once again this year, the Caisse Desjardins des Technologies de l'information is a proud partner of the MTL Connects 2022 event, the digital week, which will take place from October 15 to 23, 2022.
Eco(systems) of hope
This Printemps numérique event offers us inspiring programming under the main theme: Eco(systems) of hope.
The underlying themes around which discussions will evolve this year will be:
Artificial Intelligence
Culture and Creativity
Cybersecurity and Digital Identity
Disruptive innovations
Resilience & Future of the city
Education and work of tomorrow
How to win your MTL Connect tickets?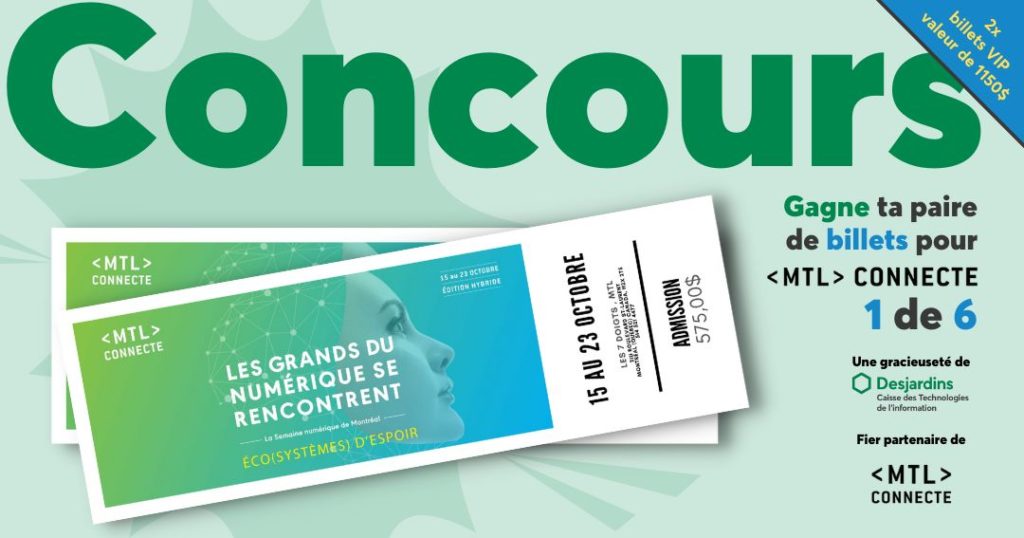 To win your tickets for MTL Connects, visit this link
Not to be missed during MTL Connect
As a partner in the technology ecosystem, Caisse TI is pleased to participate in the following activities:
Wednesday, October 19th
From 2:30 to 3:15 pm, participate in virtual or face-to-face panel – International Crossroads. A discussion under the theme of disruptive innovation.
Dr. Samir Mounir, Director of Business Development for Desjardins Caisse TI will be part of the conversation with Shohini Ghose, Professor at Wilfrid Laurier University, and Christian Sarra-Bournet, Executive Director at the Quantum Institute of the University of Sherbrooke.
To reserve your seats in person 👇👇🏻👇🏽👇🏿
Reserve your place in person by following this link
Thursday, October 20th
From 4:45 to 5:15 p.m., participate virtually or in person in the MTL Tech Awards, the international innovation competition sponsored by the Caisse Desjardins des Technologies de l'information.
To reserve your in-person seats 👇👇🏻👇🏽👇🏿